Hey guys so most of you know about the drama I went through with my HAF932 mod but tomorrow the voting begins on facebook so if you think that my mod is worthy of you vote in the tower category please help a brother out with a vote and possibly share my entry with your friends, thank you in advance.
Voting starts tomorrow here: (Mine should be under the tower mod category underneath their cover photo)
https://www.facebook.com/coolermaster
My build log is here on the forum:
http://tweakscene.com/viewtopic.php?f=115&t=6458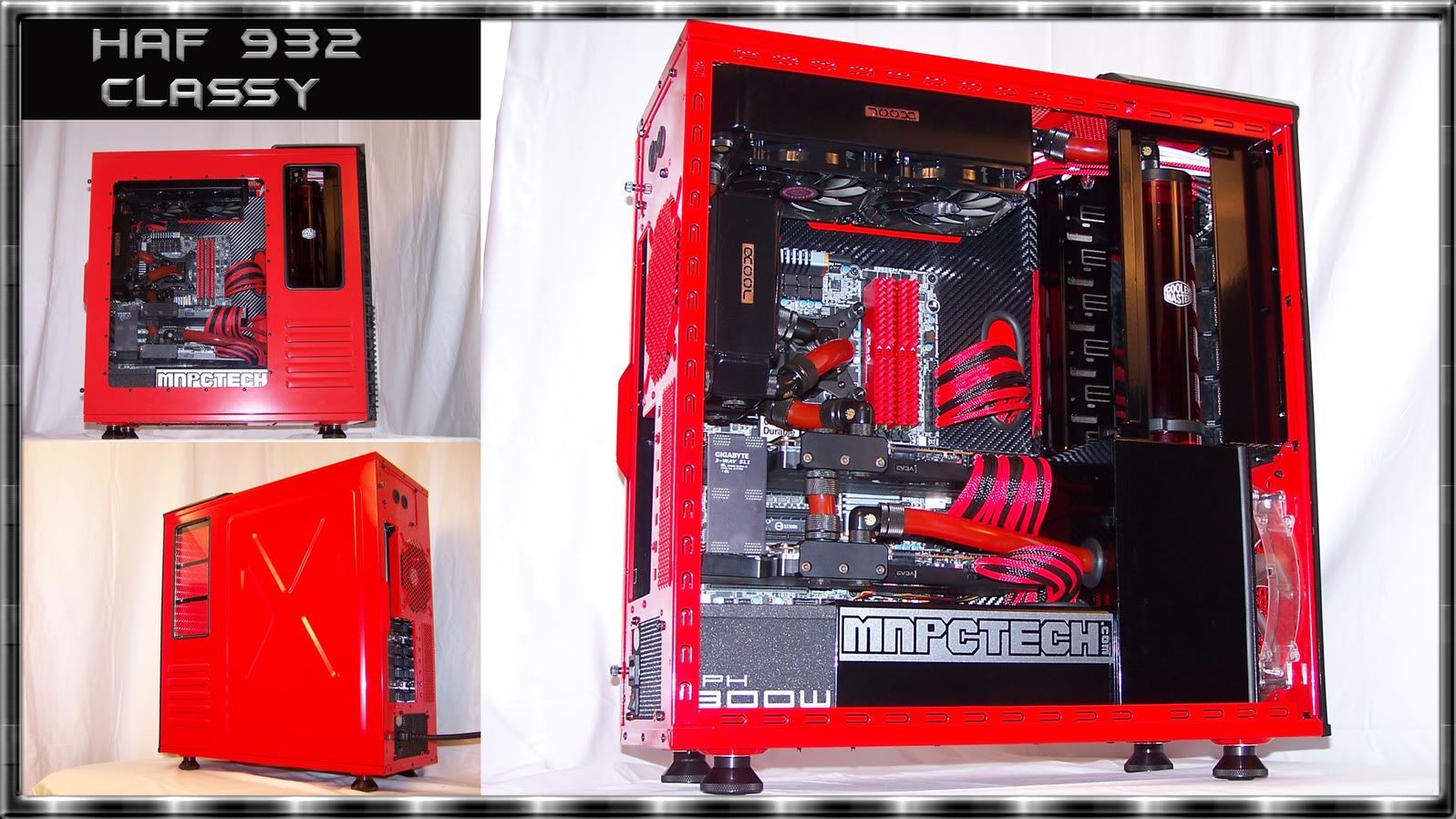 Just to fill you in on the story behind this mod and all I had to go through I will start out by telling you that it all began at the GESL Lanfest sponsored by Gigabyte at Cal Poly in California on April 25th 2012.
I entered into their case mod contest there and my mod took 3rd place at which time we were told by Gigabyte that in order to accept the prizes we had to agree that our computer mods would be traveling to PAX Prime 2012 for a final judging and a CPUZ magazine cover.
I was given permission to make the switch from air to water as long as I kept the same color scheme by Gigabyte and they actually had me agree to making the switch from my EVGA FTW P67 motherboard to the Z77 motherboard that I won there at the contest. I didn't want to use that motherboard due to the color being blue and it obviously would clash terribly with my red and black build so I purchased a Gigabyte board off ebay for $270, purchased a PAX Prime Badge off ebay for $300 and then started the transformation to what the mod looks like now.
I spent $1000 on the 2 EVGA GTX 580 Classified Hydrocopper GPUs and another $2000 in parts and then put in about 150 hours or more into modding everything to what you see today only to be told that Gigabyte was not going to go through with what was originally promised and that our mods
would not be going to PAX Prime 2012 for final judging
.
At this point you could probably put yourself in my shoes and have an idea of the emotional letdown and frustration I went through after putting my heart and soul into something that I was promised only to be told sorry we don't have room for your cases. What really bothered me was that they didn't even bother to at least have the final judging and basically just turned their backs on us 3 modders.
The positive side of all this was that I was able to meet some really great people in the modding community as well as some great people at Cooler Master who just happened to need another mod for their booth. My good friend Lee Harrington at PC Junkie Mods helped me out by introducing me to the great people at Cooler Master. I met with them at their location here in Southern California and they enjoyed my mod enough to invite me to have it displayed at their booth at PAX Prime 2012.
I always try and stay positive even in the wake of negativity and it was the chance of a lifetime to be able to go to PAX and meet people at all the great companies i have come to love over the years. Gigabyte even was nice enough to let me use one of their Exhibitor badges at PAX Prime and I volunteered at their booth so I was able to see things that the public didn't get to see as well as stay for the after hours mixers and meet people from ASUS, EVGA, NVIDIA, MSI to just name a few.
My hopes are that I can at least place somewhere in the top 3 at this mod contest to recoup some of the cost incurred in this trip I made to PAX. I had to pay for gas from California to Seattle Washington and back as well as hotel bills etc
Anyway thanks for listening and wish me luck.